It's hard to believe that Playboy magazine is having their 60th anniversary! Hugh Hefner started the iconic magazine in his Chicago kitchen with a very lucrative find: photos of a nude Marilyn Monroe purchased from a calendar company. With its beautiful photos, short stories and interviews, the magazine took off beyond anything Hef could imagine. The November 1972 issue stands as their bestseller with 7,161,561 sold. During its heyday, all the famous people wanted to be seen in Hef's magazine and at his mansion. With their upcoming anniversary issue, they hope to continue with their 'recently rebooted and newly upscale Playboy' by putting Kate Moss on the cover.
Recently, Hef's youngest son, Cooper, 22, has been immersed in all things Bunny. He is quickly becoming the 'face' of the magazine. He goes to the events, has a big presence on social media and he might even have his own bevy of beauties! Fans of the magazine have been particularly impressed with the magazine's more recent covers, deemed 'conceptual covers' in the LA Times. They have been less cluttered and resemble the great, headline making covers of the past. But, will fans be as excited about Cooper Hefner's most recent announcement? He tweeted: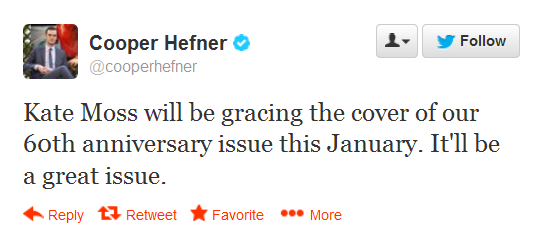 Truthfully, Moss seems like a lackluster choice for an anniversary cover. Sure, it may be a step up from the 25th and 50th anniversary covers that were just text, no model, but Kate Moss? Playboy's Editorial Director Jimmy Jellinek wants you to love their choice. "This is a massive global brand. You need a global icon in order to celebrate that - that was the impetus. You're talking about the face of Burberry, the biggest supermodel in the world on the cover of Playboy. She's the perfect partner for us to help launch the next 60 years." Meh, maybe if it was 1994! Then again, it may be a hit with men in their 30s-40s who grew up seeing Moss in the press and in their teenage fantasies.
Moss, who turns 40 in January, will be dressed up in at least part of the famous bunny costume on the cover. Bunny ears, french cuffs and silk stockings reports the LA Times. Pretty unoriginal and bland, right? Wonder if they can flash that up somehow? Kate's breasts have been seen over and over again, but the Times is also reporting that she'll be showing full-frontal nudity. Now that might sell some extra issues! Hef says, "She's a worldwide celebrity and iconic and crosses the boundaries from sexual imagery to upscale modeling. It's a natural for us."